Good Riddance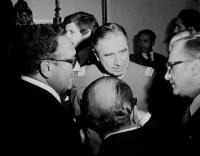 King and KingmakerChile's Gen Pinochet dies at 91 (BBC) brings the sad, sad news that a true monster no longer walks among us. Naturally, since he's dead, it's time to start remembering that "[d]espite his human rights record, many Chileans loved him and said he saved the country from Marxism." (emphasis added). Despite? That's all he's known for! Probably everybody loved him except for the friends and family of the "3,000 people [who] were killed or "disappeared" during his rule which ended in 1990." Instead make sure to spend paragraphs talking about how "[h]e died surrounded by his family" and that "150 Gen Pinochet supporters had been keeping a vigil outside his hospital since he was taken ill". Awwww, just a poor little old man fighting for his last breath. A tragic story of human courage in the face of the grinding inevitability of human frailty.
"In June 1973, Gen Pinochet led the armed forces in a dramatic coup against the democratically elected Marxist government of Salvador Allende. (emphasis added)"
It's just so great that an emotional read of the article gives you the impression that an old man whose long rule of Chile had some faults, it's true, but earned him a strong following that survives to this day, has died. And who was the one who famously helped him do take over Chile?
Oh, that's right. Hey, Kissinger! Where's Pinochet? Why don't you go look for him? Yeah, I think he went toward the light … that's right, keep going. Getting warmer? Yup, you must be headed the right way.